Private Practice now Re-OPENED
(with COVID precautions)
Please Email enquiries
Let's rejoice and refine the human touch
teaching Alexander Lessons
New! In 2022
Diana Devitt-Dawson is offering
(2) DAY TEACHER REFRESHER TRAINING
Saturday & Sunday Mornings
9.30am - 12.30pm
Also available
Private Group Lessons
(with (2) or (3) teachers)
60 minutes $220 with (2) teachers (2 x $110)
Or, (3) teachers (3 x $75).
Student concession offered.

90 minutes $330 with (2) teachers (2 x $165)
Or, (3) teachers ( 3 x $110).
Student concession offered.

PRIVATE LESSONS: 40mins $130 (for teachers)
Concession for students.
Diana is 'x' Head of Training at the Alexander Technique Institute Teacher Training School. Diana and has over 35 years of continuous teaching in private practice. She has presented at International Congresses and Conferences and has conducted CPD workshops nationally and internationally on a regular basis. During these (2) day refreshers Diana will cater to the needs of individual participants with regards to practical instruction. The focus will be refining hands-on and verbal skills in order to teach and demonstrate the Alexander principles clearly and accurately.

Regarding Private Group Lessons
These small group private lessons are for new grads and teachers who are looking to refine their hands-on application skills post COVID. And, in order to gain confidence in preparation to setting-up a private practice, teaching one-to-one lessons - to all ages. The focus is on teaching, clarifying and demonstrating solely, the Alexander principles of inhibition, non-doing and direction, verbally and with hands-on work. In a peaceful environment Diana offers gentle, individual guidance in refining hands-on work, primarily to the head, neck and back relationship (HN & B) i.e., the 'primary control', in such a way that clarifies the Alexander directions, 'preventive guiding orders.' (F.M.)

Lightness is encouraged during the learning process which makes for an enjoyable experience while maintaining focus. Working in pairs supervision is given in how-to place hands on the HN & B of another, while continuing to self-work. Hand placement, giving direction with verbal clarification is demonstrated while teaching the procedures 'monkey,' whispered 'ah','lunge' and the lying-down work. Instruction is also given in how the arms, elbows, wrists and fingers all play an important part in allowing a teachers hands to give delicate, yet clear, upward direction that culminate in Alexander's directions, 'Let the neck be free, to let the head go forward and UP, (on the neck) to let, the back Lengthen and widen.' Which allows a return to natural breathing.

Discussion and suggestions are welcome. DVD clips and personal recording of first generation teachers speaking on the Alexander work will also be available. The teachers include, Patrick Macdonald, Walter Carrington (interview on Australian ABC radio), Elizabeth and Dick Walker and Erika Whittaker. Hands-outs will be given to each participant.
"We only want to gain our end in the process of ordering our heads forward and up, our backs to lengthen and widen, and so on."
F.M. Alexlander
BOOKINGS & DATES: Email diana@alexandertechniqueinstitute.com.au
MOBILE: 0408 055 580
For Bio see About Us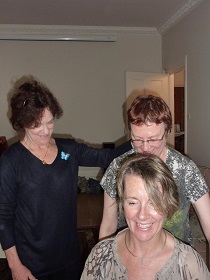 CPD / Refresher with Diana
---
SYDNEY ALEXANDER TEACHER WORK-EXCHANGE
Friday mornings
9am - 11am
All Welcome!
BOOKINGS; Please email Diana for availability
diana@alexandertechniqueinstitute.com.au
---
MEDITATION POSTURE WORKSHOPS (Mindful Embodiment)
Learn sit & walk in balance, free from pain
All traditions welcome!
Saturdays 9am - 11am
"The lightly poised head is synonymous with clarity of Mind and openness of Spirit. The free neck is the key to the naturally vertical spine."
Paul Reps (Zen teacher and poet)
See article: ALEXANDER TECHNIQUE, MINDFUL EMBODIMENT AND MEDITATION on the Ordinary Mind Zen School Sydney website. www.zensydney.com
Bookings & Enquiries. Email:- diana@alexandertechniqueinstitute.com.au