Private Practice now Re-OPENED
(with COVID precautions)
Please Email enquiries
Diana Devitt-Dawson
Senior Teacher/Head of Training
RN/Midwife:- MBSR (stress management) & Harpist.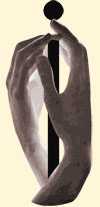 Art & Science
Let's Rejoice in the Human Touch
Alexander Lessons
Individual Experiential Re-Education
Preventative / Rehabilitative
Frederick Matthias Alexander described his teaching as a psychophysical re-education in the Use of the Self.
Experience evidence based practice
Experience a return to postural balance - pain free
Experience a heightened sensory awareness (kinaesthetic sense)
Learn how to self-work to prevent pain, anxiety and stress
Prevent pain and injury in exercise / playing music / sport
Change your posture, change your life, breathe naturally
All ages!
Alexander Institute offers
Gentle hands-on Alexander lessons for all ages
Introductory talks to allied health workers
Introductory presentations for G.P's & Specialists
Weekend Teacher Refresher training
---
Evidence-Based Practice
British Medical Journal 2008 publication
of Randomised Controlled Back Pain Trial
with Alexander lessons.
www.bmj.com/content/337/bmj.a884
Please note: Evidence-Based Alexander lessons cannot be taught online.
---
"The Alexander Technique teaches you how to bring more practical intelligence into what you are already doing. How to eliminate stereotyped responses. How to deal with habit and change. It leaves you free to choose your own goal but gives you a better use of yourself while you work towards it."
Prof. Frank Pierce Jones
---
Alexander Technique in Education
---
"Alexander learned by observation and experiment upon himself, in the strictest scientific method, that the mechanism that determines the character of all reflex action lies in the reflexes governing the relationship of the head to the neck, and the neck to the spinal column. When this 'primary control' or our core structure is functioning as it should, it is sensed as an integrating force that allows freedom throughout the organism."
Prof. John Dewey